July 21
July 21
SHEEP: "A good morning" it is!
SHEPHERD: Live in expectancy of the hope that is before you – restoration, wholeness and completeness in Me – not only for yourself but for others with whom your life will come in contact. Days of great joy – joy of being in the will of your Master. Days of seeing lives changed – all in the power of My Spirit.
These words will unfold before you and you will know with greater humbling, it is nothing of yourself but of Me. You will question no more as I work through you – yielding yourself to Me.
Joy, joy , joy will truly abound as you yield yourself to Me. You will be aglow with My joy.
I know your heart. Simply place your life into My Hands, which is what you do, and TRUST ME to do and accomplish all I have prepared for you.
GOD'S WORD: Philippians 2:12-13,15 "Therefore, my dear ones, as you have always obeyed [my suggestions], so now, not only [with the enthusiasm you would show] in my presence but much more because I am absent, work out (cultivate, carry out to the goal, and fully complete) your own salvation with reverence and awe and trembling (self-distrust, with serious caution, tenderness of conscience, watchfulness against temptation, timidly shrinking from whatever might offend God and discredit the name of Christ).
[Not in your own strength] for it is God Who is all the while [effectually at work in you [energizing and creating in you the power and desire], both to will and to work for His good pleasure and satisfaction and delight.
That you may show yourselves to be blameless and guiltless, innocent and uncontaminated, children of God without blemish (faultless, unrebukable) in the midst of a crooked and wicked generation [spiritually perverted and perverse], among whom you are seen as bright lights (stars or beacons shining out clearly) in the [dark] world,"
Think about this – I KNOW EVERYTHING ABOUT YOU.
More Conversations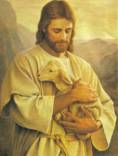 Send This Page to a Friend