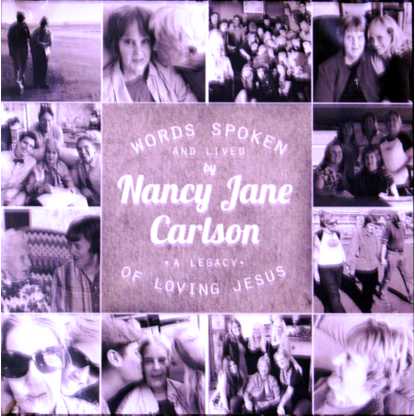 Opening

Broken to His Will

For Our Tears

Be For Him

Nanny's Prayer

Turn Your Eyes Upon Jesus

This is a special recording of Nancy Jane Carlson, who went home to be with Jesus on August 20, 2013.
Nanny's testimony was best understood by her actions, but her words were a source of hope to everyone she ministered to. Her legacy was to portray the love of Jesus to a broken world. These words recorded her final days, were spoken for the generations that would follow her time.
Nancy's heart would be that every one of us would grasp what it means to BE for Jesus, and to demonstrate authentic love the way God called us to.
No one demonstrates that better or in such a unique and special way than Nanny. It is our prayer that you will encounter Jesus and be filled with the Spirit of God through time spent listening to the legacy of Nancy Jane Carlson.