Day 3: Challenging Circumstances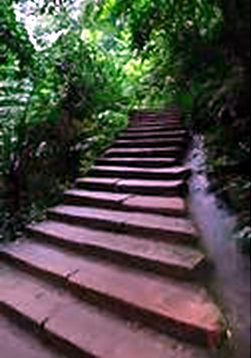 We all from time to time are faced with challenging circumstances in our lives that causes us to wonder if we'll make it. I'm being faced with that now. Where I am absolutely beyond myself to do anything about it. I m learning, by His grace, that truly He is the only way out, as He teaches me how I can be sustained.
As I was quieting myself before the Lord one morning I heard (a new day has dawned - believe in it and walk in it as such) I grabbed a piece of paper from under my notes and this is what it said - believing for a miracle or walking out your faith. I received it as confirmation that He was speaking to me.
Little did I realize what that would require me-I would be learning how to walk out my faith.
In order to trust we have need of coming to Him in simple child like faith.
Proverbs 3:5-6
Trust in the LORD with all your heart,
And lean not on your own understanding;
(God plans will prevail. Wait with an expectancy to see His plans unfold. Trust Him as a child trusts. He is our 'Abba Father' who loves us. Climb up into His arms of love and rest in Him, knowing He has only the best in mind for us. He knows us better than we know ourselves!)
In all your ways acknowledge Him,
And He shall direct your paths.
(Acknowledge- suggests an intimacy with Him in prayer that births victories!)
So, come to Him in simple child like trust! He is in control. Whatever our need is in His Hands. How He brings it about is His business. Our place is to rest in Him and wait with expectancy as He works in us to will and do His good pleasure;
Before we go on, lets take a good look at our Savior, Jesus
Colossians 3:4 When Christ who is our life appears, and then you also will appear with Him in glory.
Romans 5:14 Nevertheless death reigned from Adam to Moses, even over those who had not sinned according to the likeness of the transgression of Adam, who is a type of Him who was to come.
Adam brought the curse of sin and death - a life dominated by sin. But Christ by His death, not only delivered us but live in us. He works in us to will and do His good pleasure.
John 10:10 The thief does not come except to steal, and to kill, and to destroy. I have come that they may have life, and that they may have it more abundantly.
John 1:16 And of His fullness we have all received, and grace for grace.
He came that we may have life abundantly. And of His fullness we have all received, and grace for grace - the fullness of the Spirit is for us. He is able to make all grace abound always, having sufficiency, abounding in every good work. Our life should have an effect on people. Teach us Lord!
Romans 5:20-21 Moreover the law entered that the offense might abound. But where sin abounded, grace abounded much more, 21 so that as sin reigned in death, even so grace might reign through righteousness to eternal life through Jesus Christ our Lord.
2 Corinthians 9:8 And God is able to make all grace abound toward you, that you, always having all sufficiency in all things, may have abundance for every good work.
All, every - denotes abundance
Always - without exception
Everything -every possible need
Write this truth on our hearts! Truly, if God is faithful; it is possible!
1 John 3:22 And whatever we ask we receive from Him, because we keep His commandments and do those things that are pleasing in His sight.
Ask the Holy Spirit to make them alive in our hearts! God is able with His abounding grace to give grace upon grace - it is more abundant than our sins!
Our Prayer: Colossians 1:9-11
For this reason we also, since the day we heard it, do not cease to pray for you, and to ask that you may be filled with the knowledge of His will in all wisdom and spiritual understanding; 10 that you may walk worthy of the Lord, fully pleasing Him, being fruitful in every good work and increasing in the knowledge of God; 11 strengthened with all might, according to His glorious power, for all patience and longsuffering with joy;
Jesus has offered us a resurrected life!
Galatians 2:20
I have been crucified with Christ; it is no longer I who live, but Christ lives in me; and the life, which I now live in the flesh I live by faith in the Son of God, who loved me and gave Himself for me.
I am crucified with Christ:

When Christ died on the cross, He identified all God's people with Himself in that death
We all have been crucified with Christ and the power of His death works in us daily.
Having died to sin in Christ, we may life unto God as we abide in Him.
The power of His death and His life is active in us.

I live and yet no longer I:

By faith I see my life that was under the sentence of death, cancelled.
It is still mine in the flesh were no good thing dwells, but in Christ I am free
I am free in Christ as long as I abide in Him and no longer serve sin.

Christ lives in me:

He not only was crucified for us but He intercedes for us.
He lives in us. He is the life for which we live.
Since we are crucified with Christ we must experience the crucified life.

The life I now live:

Christ loves us, works in us and enables us to carry on His work. We need to trust. Our minds can't begin to grasp His love - His ways are unreachable! We can humble ourselves in adoration and praise Let us sacrifice all to know, honor and trust the love of God for us!
A Meditation on Being Sustained in Times of Challenges
Have mercy on me, My Lord,
Be merciful
For my mind, will and emotions
Trust in You.
I take refuge under Your wings
Like a trusting baby bird
Hiding under the wings of its parents.
I cry out to you Lord.
For only You can complete
All that is needed in me
So, stretch out Your Hand
And save me.
I will take You at Your Word.
Though the enemy taunts me
You have defeated him already.
May Your glory be seen on the earth.
Despite what He's doing,
My heart is steadfast and true,
And I'm praising You more every day.
So, wake up my soul
Rejoice and be glad.
Proclaiming God's Promises
As true.
Great is Your mercy
You've defeated my enemies
And wow My soul
Now rejoices.
And there's nothing left for people to say, but-
Our triumphant,
Almighty God
Reigns!