Lives: As Stone or Tumbleweed?
The world's tallest building is the Empire State Building. It stands as a marvel to the sight of man as it soars above the side walks and the traffic-crowded streets of the crossroads of the world: Fifth Avenue and Thirty-fourth Street, New York City. Its frame rises one hundred and three stories, nearly a quarter of a mile vertically. Yet I wonder: of all the countless thousands of people who gaze upon this structure, just how many realize what went into the making of the building? I am told that if all the materials used in this great venture were to be placed on one train, it would be fifty-seven miles long.
Think of it, one train fifty-seven miles long! In this structure there are ten million bricks, six thousand windows, We are told that there are one thousand two hundred elevators in the building; also, there are fifty miles of water pipe for heating facilities, and seventy-five miles of pipe to furnish running water.
With this tremendous weight of 303,000 tons of steel, stone and materials, we would ask ourselves, "Will it ever fall?" Geologists tell us that it will never fall because it is solidly anchored in bedrock three stories below the surface of the ground. The building requires a solid foundation. Yes, we are told that it will never fall; it will never crumble, for it is firmly grounded. But a more interesting assurance of the security of a building which is imbedded in rock comes from the Lord Jesus Christ, the builder of the universe, when on one occasion He told hi& hearers, as recorded in Luke 6:47:
"Whosoever cometh to me, and heareth my sayings, and doeth them, I will shew you to whom he is like: He is like a man which build an house, and digged deep, and laid the foundation on a rock: and when the flood arose, the stream beat vehemently upon that house, and could not shake it; for it was founded upon a rock."
No doubt the surrounding region may have suggested this illus. tration to Jesus. The country was hilly, with the streams of Galilee rushing down, so that there were many ravines and wadies. Jesus capitalizes on this familiar scene so they can have the truth brought to their mind. Two men are conceived as alike selecting a spot where the sand overlies the rock. The one builds directly upon the sand: the other digs down to bedrock. When the impact of winter storms rages, the one with the solid foundation remains firm.
This has been a preface to the message: "Lives: as Stone or Tumbleweed?" the text of which is found in the third chapter of Daniel.
Imagine yourself, if you will, during the year 580 B.C. in the eighteenth year of the reign of King Nebuchadnezzar. From the third chapter of Daniel we read that the king makes an image with a height of 90 feet and a breadth of 9 feet. He has placed it in the plain of Dura in the province of Babylon. You have been invited to the great dedication feast, and when you arrive you find that the king has sent for princes, governors and captains, judges, treasurers, counsellors, sheriffs, and all the rulers of the provinces, to this great dedication.
Soon after everyone is settled down, the king enters on the platform and gives a signal; then from his left enters a herald who cries aloud, "To you, it is commanded, 0 people, nations, and languages, that at what time ye hear the sound of the cornet, flute, harp, sackbut, psaltery, dulcimer, and all kinds of musick, ye fall down and worship the golden image that Nebuchadnezzar the king hath set up; and whoso falleth not down and worshippeth shall the same hour be cast into the midst of a burning fiery furnace." The herald takes his place. The king gives another signal and from all around us is heard the sound of the cornet, the flute and all kinds of musical instruments, and before our eyes we see that everyone is falling down.
But it is not long before some Chaldeans come to the king and say that there are certain Jews that are not bowing down. Did you not make a decree? Then let us see them burn! The three Hebrews are brought before the king. We see them standing before the king and we hear him ask, "Is it true that ye do not serve my gods, nor worship the golden image which I have set up?" The king gives them a second chance provided that when they again hear the sounds of musical instruments they bow down and worship, declaring, " . . . but if ye worship not, ye shall be cast the same hour into the midst of a burning fiery furnace; and who is that God that shall deliver you out of my hands?"
Now we go to our second text,
"Shadrach, Meshach, and Abednego answered and said to the king, 0 Nebuchadnezzar, we are not careful to answer thee in this matter. If it be so, our God whom we serve is able to deliver us from the burning fiery furnace and lie will deliver us out of thine liantl 0 king. But if not, be it known unto thee, 0 king, that we will not serve thy gods, nor worship the golden image which thou hast set up" (Daniel 3:16, 17, 18)
The king in his anger commands that the furnace be heated seven times more than it usually is. The most mighty men in his army are brought in to bind the three in their coats, their hosen, their hats, and other garments and to cast them into the furnace.
But because the furnace has been overheated, the flames leap out and slay the mighty men ushering in the three men under restraint. King Nebuchadnezzar is astonished but sits back with. his pious look, waiting for the usual cries and screams, but not a sound. He arises and goes over to the mouth of the furnace, and the door being ajar, it permits him to look in. He cries out to his counselors, "Did we not cast three bound men into the midst of the fire? Lo, there I see four, and the form of the fourth is like the Son of God." Just as we know today; where two or three are gathered, God reminds us, "There I am."
Shadrach, Meshach, and Abednego are called out, and it seems that a miracle has taken place: they do not even smell as if they have been in a fire. Neither the hair on their head nor the clothes on their body are singed! What does Nebuchadnezzar say? That whoever says anything amiss against the God of Shadrach, Meshach, and Abednego shall be cut in pieces and his house shall be torn down, because no other god possesses that power.
Here we notice three men who are not like tumbleweeds that drifted into the crowd by bowing down to the golden image set tip by the king, but men who are clinging to their God. These men knew, and we should be convinced today, that "The Lord is on my side; I will not fear; what can man do unto me?" (Psalms 118:6). The character of these men had depth, namely, their God. Their faith stood out as a result of standing finn; their foundation was not on self. To you: if your foundation is on self, there is a fall coming.
If the base you are building upon is self, one day there will come the flood, the muddy waters of doubt, and su1den desire, and the rushing current of unforeseen temptation and . . . you will tumble!
Concerning this experience, we read in Isaiah 43: 1-3: "But now thus saith the Lord that created thee, 0 Jacob, and he that formed thee, 0 Israel, Fear not: for I have redeemed thee, I have called thee by thy name; thou art mine. When thou passest through the waters, I will be with thee; and through the rivers, they shall not overflow thee: when thou walkest through the fire, thou shalt not be burned; neither shall the flame kindle upon thee. For I am the Lord thy God, the Holy One..."
How did these three—three among millions—stand firm? Let us establish that their foundation was based upon two facts: first, they were FEARLESS, and second, they were FAITHFUL.
First, they were
Fearless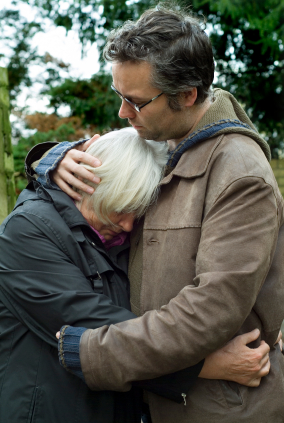 BECAUSE they were daring. Verse 16 of this chapter reads: they answered and said to the king, 0 Nebuchadnezzar, we are not careful to answer thee in this matter." See how fearless they were—they were not even careful to answer the king. In short, they are saying that they need no time to consult with one another to come up with an answer. They dared to stand up for God. They dared to stand up for what they believed to be true. They had principles, and there would be NO compromise!
Realizing that these men were youths, as many believe, is this spirit of "fearlessness" not needed by the young of today? Yes, teenagers need to be daring for Christ even in our present age, and so need be the business man, the housewife. Yet, it appears that many are afraid when they are away from the church.
We need a revival of interest in taking a stand for Christ. Our churches need to take more than a "Sunday" interest. Did not Christ take a stand for each one of us years ago? We had best learn from these three and, as Paul recorded, "take courage, quit ye like men, be strong in the Lord."
These men were fearless! Their foundation was firm because: (1) they had a trust in God, for do we not read in Isaiah 50:7 that "For the Lord God will help me; therefore shall I not be confounded: therefore have I set my face like a flint, and I know that I shall not be ashamed;" (2) they had a fear of God, "We ought to obey God rather than men" (Acts 5:29); (3) they had a faithfulness to God, of which we shall speak more shortly. We can be faithful today through a faith in Christ as they had their faith in God.
It would have been extremely easy for them to have forgotten the Lord, BUT their foundation was true. Even in the midst of their great temptation, they refused to yield. "Yield not to temptation, for it is yielding that is sin." We read in the scripture that "there bath no temptation taken you but such as is common to man: but God is faithful, who will not suffer you to be tempted above that ye are able; but will with the temptation also make a way to escape that ye may be able to bear it."
Their foundation was based on three things: (1) a worship of God that we read about in verse 14; (2) the practice of abstaining from drink (l:l2ff) ; and (3) a communion with God in which they thus obtained knowledge and wisdom (3:17, 20). The question is, do we? Do we worship God; do we abstain from drink; and are we in communion with God? In all this, not only were they fearless (and in this we include the act of being daring and determined) but they were also dependent; or, to put it in other words, they were
Faithful
In verse IS: "But if not, be it known unto thee, 0 king, that we will NOT serve thy gods, nor worship the golden image which thou hast set up." They were determined to be faithful. True followers of Christ are determined to stand, regardless of what the outcome will be. Today it is easy to go along with the crowd. It would have been very easy for these three to have bowed down RUT they refused. They, like the Empire State Building, stood firm.
Many in this city today are placed in the fiery furnace but, regardless of the cost, they are endowed with the determination to go through unscathed, and it is particularly so with the Lord's people. Stand up for the Lord, but to do so does demand determination on your part.
Outside of the realm of standing up for a principle of lionesty, sincerity, the world is full of people determined to do good and in so doing develop a good character. I am thinking particularly of one who would risk his lire to save someone else, perhaps someone trapped on a ledge of a steep mountain; who would go hundreds of feet under water to rescue someone trapped in a car or boat; or what about the individual who tries year after to find a vaccine against disease, facing probable loss of his life? Yes, these and other examples point to the fact that many have determination:
Likewise, a Christian should stand for the Lord and thus be determined to win others who are lost. There is an element of influence felt. I am sure that as these three stood on that fateful day, their standing firm was of great influence to some present. Even today, in many countries, people are killed if they stand for Christ, but here in America we are not called upon to die, rather to LIVE FOR the Christ, live for the One who died for us.
They were true and FAITHFUL, which shows that their faith was in God, not in man. This was characteristic of Luther when lie said, "Here I stand," so the statement that became his battle cry, that the just shall live by faith, should so merit a supreme position in our lives that it too would be OUR battle cry.
Many in the Holy Writ would inspire us to become more dependent on God. From Hebrews, Chapter 11, we learn of the dependency of others, men and women who had faith in God. It is here we read that Abraham was dependent on God by leaving his native home! Elijah, faith in his herd as he encountered the priests of Baal; David in the lion's den; Joseph as he was sent into captivity; the spies as they were sent to investigate at Jericho. On and on we could go. The inevitable question occurs: where is your faith; could you be listed among these?
When one is dependent on God, he is like a ship anchored in the waters and can truly sing, "I've anchored my soul in the haven of rest." It takes faith for one to say this!!
Years later Paul, writing about this faith in a letter to the church at Rome, made a direct reference to the three and their experience with King Nebuchadnezzar: "1 beseech you therefore, brethren, by the mercies of God, that ye present your bodies a living sacrifice, wholly acceptable unto God, which is your reasonable service." He also wrote, "Be not conformed to this world; but be ye transformed by the renewing of your mind, that ye may prove what is that good and acceptable, and perfect will of God." Shadrach and his friends literally offered their bodies as a living sacrifice, with faith in their heart, a dependency on God.
May we establish another fact? We have examined man's faith fulness, but notice if you will God's faithfulness. Verse 17:
"If it be so, our God whom we serve is able to deliver us from the burning fiery furnace, and he will deliver us out of thine hand, 0 king."
God is with us in our trials. "Many are the afflictions of the righteous but the Lord will deliver us out of them all." Isaiah 49:7: "Because the Lord that is faithful." In I Corinthians 1:9 we read: "The Lord is faithful."
God's faithfulness is established: it is incomparable, it is unfailing, it is infinite, it is everlasting, it is wonderful AND it should be pleaded in prayer and then proclaimed in public. "Great is thy faithfulness." Man's faithfulness has been exemplified in Joseph, Moses, David, Abraham, Paul, Timothy, Onesimus, others—how about YOU? Do others see Jesus the living Christ in your life?
In
Conclusion
if God is unchangeable, as He declared Himself to be, then it must be man that changes. God's foundation is sure, it is permanent. It is we who pick up our life's tent and remove our stakes and move our camp to another place. We must have faith to remain where we are, realizing that no matter where we go, there will be the storms of life. We must have faith in God and in ourselves, not in that which we possess or that which possesses us. except in Him who possesses us. We must commit our life unto God. Never doubt, only trust. "Trust and obey, for there is NO other way.
"
A story is told of some passengers on a vessel steaming along the St. Lawrence River who were very upset because they could not see very far yet the ship kept knifing through the billowing fog. Finally they became so alarmed that one decided to go to the captain; but before reaching his destination, he met the first mate, who answered his complaint with, "Don't be afraid, the captain is up there on the bridge and can see over the fog which lies low on the surface. Actually, it's a lovely moonlit night where he is."
Oftentimes we are tempted to question the Lord and the way He points out, but the Lord sees the entire picture, not the very small segment allotted to our observation. Faith in God is our ONLY answer.
Without doubt it takes implicit faith to build one's life upon the foundation of Christ, and there are many who, when faith breaks down, make the mistake of building their lives on sand or on mire when only the rock of rocks, Christ Jesus, offers a permanent foundation. It was He who said, "But he that heareth and doeth not is like a man that without a foundation built an house upon the earth, against which the stream did beat vehemently, and immediately it fell and the ruin of that house was great."
Let me put it this way: Outside is a grove of trees. You will Find one tree a foot in diameter, another perhaps three feet in diameter. Should a strong wind come, which one would bend more, the larger or the smaller? The smaller one, but why? Perhaps because it had less roots, less foundation to hold it solidly? So it is in our lives. And in all reverence and due sincerity, we can liken the ground to God, the trees to mankind, and the roots to Christ. Christ, being the mediator that He declared Himself to be, is reaching into God (speaking figuratively) and is trying to reach into our lives to draw us together, to bring us into a proper relationship.
So if you are not properly grounded in Christ, you will not function properly. One can function properly only when he is connected to God through faith. And here comes our simile of a life likened unto the Empire State Building—a strong foundation, and not a tumbleweed.
I believe that Paul beautifully sums up my message when he says in I Corinthians, 3:11:
FOR OTHER FOUNDATION CAN NO MAN LAY
THAN THAT IS LAID, WHICH IS JESUS CHRIST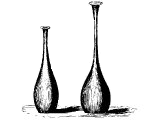 Look up another Note