September 28
September 28
GOD'S WORD: Eph. 2:10 "For we are God's [own] handiwork (His workmanship), [d]recreated in Christ Jesus, [born anew] that we may do those good works which God predestined (planned beforehand) for us [taking paths which He prepared ahead of time], that we should walk in them [living the good life which He prearranged and made ready for us to live].
SHEEP: If great things came from people who never suffered, they would think they had accomplished them. We must submit to God, so He would get the glory for the wonderful things He accomplishes in and through us.
The hidden Christ has been locked up behind our fears, our problems and our insecurities. As we yield ourselves to Christ, we will experience the power of Jesus to do a mighty thing in our life. Mary believed God and submitted to His works. Christ came forth from her. She said, "Be it unto me according to what You said.!"
May our "fears" be one of "awe" and not terror. Jesus loves us! Why not yield ourselves to Him? Let us draw near to Him.
GOD'S WORD: Heb. 10:22-23 "Let us all come forward and draw near with true (honest and sincere) hearts in unqualified assurance and absolute conviction engendered by faith (by [a]that leaning of the entire human personality on God in absolute trust and confidence in His power, wisdom, and goodness), having our hearts sprinkled and purified from a guilty (evil) conscience and our bodies cleansed with pure water. 23 So let us seize and hold fast and retain without wavering the [a]hope we cherish and confess and our acknowledgement of it, for He Who promised is reliable (sure) and faithful to His word.
SHEEP: writes about A DWELLING PLACE FOR THE SON OF GOD.
When an angel came and told Mary that she would bear a child who would be called, "The Son of God", her response was, "Let it be done to me according to what you have said."
Just as Jesus was brought in Mary, so will He be in our lives if we allow it to be. (Luke 1:35)
Lets look at what the Word "has said".
GOD'S WORD: 2 Corinthians 3:5 Not that we are fit (qualified and sufficient in ability) of ourselves to form personal judgments or to claim or count anything as coming from us, but our power and ability and sufficiency are from God.
SHEEP: We need to determine to grow spiritually, to deal with negative thoughts. As we become shaped by the Holy Spirit people will come to know Jesus by what they see.
We don't experience agitation with other people for nothing – look at it and see what God may be showing you.
It take a relentless plowing through of obstacles and insecurities that bring the results of prayers unanswered and miracles realized! What are obstacles and insecurities? – emotional injuries and personal offenses. All this will be accomplished by the Holy Spirit –
GOD'S WORD: 1 Cor. 6:11 "And such some of you were [once]. But you were washed clean (purified by a complete atonement for sin and made free from the guilt of sin), and you were consecrated (set apart, hallowed), and you were justified [pronounced righteous, by trusting] in the name of the Lord Jesus Christ and in the [Holy] Spirit of our God.
Ephesians 4:17-24 – So this I say and solemnly testify in [the name of] the Lord [as in His presence], that you must no longer live as the heathen (the Gentiles) do in their perverseness [in the folly, vanity, and emptiness of their souls and the futility] of their minds.
Their [a]moral understanding is darkened and their reasoning is beclouded. [They are] alienated (estranged, self-banished) from the life of God [with no share in it; this is] because of the ignorance (the want of knowledge and perception, the willful blindness) that is deep-seated in them, due to their hardness of heart [to the insensitiveness of their moral nature]. 19 In their spiritual apathy they have become callous and past feeling and reckless and have abandoned themselves [a prey] to unbridled sensuality, eager and greedy to indulge in every form of impurity [that their depraved desires may suggest and demand].
But you did not so learn Christ! 21 Assuming that you have really heard Him and been taught by Him, as [all] Truth is in Jesus [embodied and personified in Him], 22 Strip yourselves of your former nature [put off and discard your old unrenewed self] which characterized your previous manner of life and becomes corrupt through lusts and desires that spring from delusion;
And be constantly renewed in the spirit of your mind [having a fresh mental and spiritual attitude], And put on the new nature (the regenerate self) created in God's image, [Godlike] in true righteousness and holiness.
SHEEP: Enlighten the eyes of our hearts to know the hope to which He has called us.
SHEEP: Other things the Word "has said",
GOD'S WORD: Ezekiel 11:19; "And I will give them one heart [a new heart] and I will put a new spirit within them; and I will take the stony [unnaturally hardened] heart out of their flesh, and will give them a heart of flesh [sensitive and responsive to the touch of their God], "
18:31; "Cast away from you all your transgressions by which you have transgressed against Me, and make you a new mind and heart and a new spirit. For why will you die, O house of Israel?"
36:26 " A new heart will I give you and a new spirit will I put within you, and I will take away the stony heart out of your flesh and give you a heart of flesh."
Psalm 132:13-14 "For the Lord has chosen Zion, He has desired it for His habitation: This is My resting-place forever [says the Lord]; here will I dwell, for I have desired it."
SHEEP: To the human heart God "said" Here I will dwell for I have desired it. He is to be glorified through us.
SHEEP: So: why not make this our prayer
More Conversations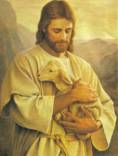 Send This Page to a Friend