September 26
September 26
SHEEP: "Thank you Lord for Saving my soul
Thank you Lord for making me whole
Thank you Lord for giving to me,
Thy great salvation so rich and free."
I started my devotion this morning singing this song. I turned to the booklet, "Intersession" by Andrew Murray and read:
ANOTHER SHEEP: Delight thyself in the Lord and He shall give you the desires of your heart.
SHEEP: His personal word to me yesterday was about receiving the desires of my heart.
He has also told me in the past that He has given me the gift of love and I will be broken to His will and way of loving.
Then this morning:
"In a heart in which God's love takes complete possession is found the highest joy in loving as He does. Delighting ourselves in the Lord (in His love) and in His desire toward men can inspire us to pray aright and gives us assurance of an answer."
More Conversations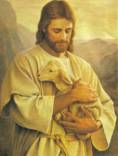 Send This Page to a Friend