September 24
September 24
SHEEP: I will sing unto the Lord - He has triumphed gloriously. The horse and rider has been thrown into the sea – everything that is coming against me to pull me down has been destroyed – thrown into the sea.
I am victorious in Jesus. He is the Lord of my life! I put my trust in you, Jesus. To you belongs all glory and praise. I will, do make a joyful noise unto the Lord for He has triumphed –my enemies are thrown into the sea!
Thank you Jesus. Step by step you lead us and you follow us all of our days. You never leave us or forsake us. It takes a restless plowing through of obstacles and insecurities that brings the results of prayers unanswered and miracles realized.
ANOTHER SHEEP: INSERT (in office computer) – sorry, can't find it.
More Conversations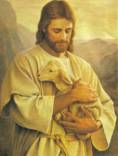 Send This Page to a Friend