October 31
October 31
SHEEP: I pray that Your Holy Spirit would come with power, not only for my household and me but for the church – how desperately this is needed. Come Holy Spirit of God and fill each one of us with Your Power. Confound our minds and humble our hearts to see our need of this.
Thank You Lord that You desire it even more for us. Work in our hearts to see the need – how desperate we are for You.
SHEPHERD: I am coming and you will see and experience the power thereof. You'll see!!
GOD'S WORD: Matthew 3:11 "I indeed baptize you with water unto repentance, but He who is coming after me is mightier than I, whose sandals I am not worthy to carry. He will baptize you with the Holy Spirit and fire."
Mark 3:15 ". .and to have power to heal sicknesses and to cast out demons:"
Mark 6:7 "And He called the twelve to Himself, and began to send them out two by two, and gave them power over unclean spirits."
Romans 6:3-5 "Or do you not know that as many of us as were baptized into Christ Jesus were baptized into His death? Therefore we were buried with Him through baptism into death, that just as Christ was raised from the dead by the glory of the Father, even so we also should walk in newness of life.
For if we have been united together in the likeness of His death, certainly we also shall be in the likeness of His resurrection,
SHEEP: Love of God is the power. If you want to help people, you will walk with power. Jesus had compassion. Need to cast away fault finding.
Lord, I'm beginning to see that our irritations we feel about people (our so called "sufferings") can't be compared to what You truly suffered for us. Forgive us. Grace us to walk in Your love when we find ourselves in situations where we become so irritated.
More Conversations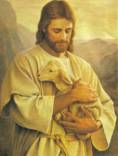 Send This Page to a Friend