October 27
October 27
SHEEP: I thank You for the day and the safe journey. I love You, Lord. I want to be in Your will in every area of my life. I need you for without You, I can do nothing.
SHEPHERD: The Lord said to me, "seek ye first My Kingdom and all these things will be added. Ponder that scripture and see what you find.
SHEEP: I started with Matthew 6:33 But seek first the kingdom of God and His righteousness, and all these things shall be added to you.
I read from verse 26-33 and stopped at the word "worry" - distraction, preoccupation. He'll take care of us. The point I'm trying to make is - relax. I know He isn't saying to do nothing but remember to be balanced in all this. Other scriptures to ponder.
1 Timothy 4:8 For bodily exercise profits a little, but godliness is profitable for all things, having promise of the life that now is and of that which is to come.
1 Corinthians 8:8 But food does not commend us to God; for neither if we eat are we the better, nor if we do not eat are we the worse.
Romans 14:17 For the kingdom of God is not eating and drinking, but righteousness and peace and joy in the Holy Spirit.
Psalms 37:5 Commit your way to the LORD, Trust also in Him, And He shall bring it to pass.
Be disciplined in body, soul and spirit and set your affections on God.
Prayer : Ephesians 3:14-21 – All the fullness of God – speaking of a broad –based spirituality, based through participating in all of God's blessings, resources, and wisdom.
GOD'S WORD: Gal. 5:22-25 " But the fruit of the [Holy] Spirit [the work which His presence within accomplishes] is love, joy (gladness), peace, patience (an even temper, forbearance), kindness, goodness (benevolence), faithfulness, Gentleness (meekness, humility), self-control (self-restraint, continence). Against such things there is no law [[a]that can bring a charge]. And those who belong to Christ Jesus (the Messiah) have crucified the flesh (the godless human nature) with its passions and appetites and desires. If we live by the [Holy] Spirit, let us also walk by the Spirit. [If by the Holy Spirit [b]we have our life in God, let us go forward [c]walking in line, our conduct controlled by the Spirit.]
SHEEP: Fruits of the Holy Spirit - your hearts are gardens for the Lord where the Holy Spirit will bear abundant fruit for His Glory.
More Conversations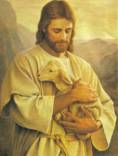 Send This Page to a Friend