October 26
October 26
SHEEP: Father, I just want to sing Your praises. I rejoice in You. I can't say enough or rejoice enough. This is the day You have given me and I'll rejoice and give thanks. Glory, with every word of praise I feel stronger. The joy of You is my strength – our strength. You are our reason for being and I want to live for You. I want to "shine" for You – I want the light of Your joy to shine. I don't understand all this (all this I am truly feeling and experiencing}but I thank You.
SHEPHERD: The new days I have spoken to you about are here. YOU CAN KNOW NO GREATER JOY THAN THIS and even this will get better –indescribable, undeniable joy. You are hearing that song – "You put the stars in the sky and You call them by name" – The knowing of Me in that way will become even better. Your countenance will change and it will change others for they want to know Me in the same way. Yes, My beloved child, those new days are here – joy, undeniable, indescribable joy – the awesomeness of knowing Me, understanding more and more each day about Me. Just continue yielding yourself to Me and behold what I will do through you.
SHEEP: You have blessed me with "love" that is greater than anything I could ever want. Wow!
My reading for today is from Zephaniah 3:12-20.
Psalm 57:2 A meek and humble people who trust (hope and make Him their refuge) in the Name of the Lord – the Mighty One will save and rejoice(irresistible joy) over you with gladness.
Hab. 3:18-19 His love will quiet you. His love will be seen as deeply felt thoughtfulness and admiration. He will rejoice over you with singing. He is the source of our joy!
Father, Continue to do Your perfect work in me and others so that we may go forth in your power and the manifestation of Your Spirit. I want to see people changed and set free from the bondage they're in.
May Your work of sanctification be continued in all of us for Your Glory, honor and praise. Amen!
More Conversations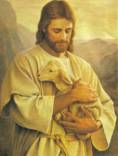 Send This Page to a Friend