October 17
October 17
SHEEP: My question to the Lord this day was "How do you know what 'the will of the Father' is? I was asking this question because of the extreme weakness I was experiencing. Are you not the God who heals? I turned to Romans 9:17, thinking I had turned to Romans 10:17
GOD'S WORD: Romans 9:17 I have raised you up for this very purpose of displaying My power in [dealing with] you, so that My name may be proclaimed the whole world over.
Purpose – may know Him and the power of the resurrection – boldness
Isaiah 40:I have redeemed you
Paid a price for you
Called you by my name
You are mine
Precious in my sight
I love you
Created for my glory
Now may the God of peace [Who is the Author and the Giver of peace], Who brought again from among the dead our Lord Jesus, that great Shepherd of the sheep, by the blood [that sealed, ratified] the everlasting agreement (covenant, testament),(power – capability/abilities name – 1 Kings 8:43 Hear in heaven, Your dwelling place, and do according to all that the stranger asks of You, so that all peoples of the earth may know Your name [and Your revelation of Your presence] and fear and revere You, as do Your people Israel, and may know and comprehend that this house which I have built is called by Your Name [and contains the token of Your presence].
We are to yield ourselves unreservedly to the sanctification of the Holy Spirit. God is never unjust in dealing with us. As our Sovereign, Almighty God He has a right to deal with us according to His will. He is always merciful and His purpose is to work all things for good -changing us from glory to glory. We are to look more like Him.
So, count it all joy -
GOD'S WORD: James 1:2-5 Consider it wholly joyful, my brethren, whenever you are enveloped in or encounter trials of any sort or fall into various temptations. 3Be assured and understand that the trial and proving of your faith bring out endurance and steadfastness and patience. 4But let endurance and steadfastness and patience have full play and do a thorough work, so that you may be [people] perfectly and fully developed [with no defects], lacking in nothing. 5If any of you is deficient in wisdom, let him ask of the giving God [Who gives] to everyone liberally and ungrudgingly, without reproaching or fault finding, and it will be given him".
SHEEP: I will trust you, Lord, with childlike faith and give myself wholly to do your will. Littleness of faith – lack of a firmly relying trust.
GOD'S WORD: Romans 12:12 "Rejoice and exult in hope; be steadfast and patient in suffering and tribulation; be constant in prayer."
SHEEP: Strength will arise as we wait upon the Lord. I will wait upon the Lord for my God reigns forever, my hope and strong deliverer. He is the everlasting God. He does not faint or grow weary. He is the defender of the weak. He comforts those in need. He lifts us up on wings like eagles.
More Conversations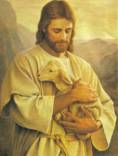 Send This Page to a Friend