October 15
October 15
SHEEP: Bless the Lord, oh my soul and all that is within me. I bless your Holy Name.
You forgive every one of and all my iniquities. You heal each one (all) my diseases. (It was finished at Calvary)
You redeemed my life from corruption. I am crowned with loving kindness and mercy. You satisfy my (mouth) necessity and desire at my present age and situations with good so that my youth is renewed like an eagle - strong, overcoming, soaring.
Your mercy and loving kindness are from everlasting to everlasting to those who fear You – keep Your covenant, remember Your commands. My soul blesses You – affectionately – with all I have and am! Thank you, Jesus!
Scripture on coming to Him as a little child.
GOD'S WORD: Matthew 18:1-5 "At that time the disciples came to Jesus, saying, "Who then is greatest in the kingdom of heaven?"
Then Jesus called a little child to Him, set him in the midst of them, 3 and said, "Assuredly, I say to you, unless you are converted and become as little children, you will by no means enter the kingdom of heaven. 4 Therefore whoever humbles himself as this little child is the greatest in the kingdom of heaven. 5 Whoever receives one little child like this in My name receives Me.
GOD'S WORD: Hosea 11:3 "The God of compassion said, 'It was I who taught Ephraim to walk. I took them up in my arms.'" (NRSV)
(AMP) 3Yet I taught Ephraim to walk, taking them by their arms or taking them up in My arms, but they did not know that I healed them.
SHEEP: It takes time to believe the Divine working of the Holy Spirit through whom our hearts are filled with love. We need to take time away from the world and its interests and bask in the warmth of God's love so it can take possession of our hearts.
We can praise God for His Holy Spirit He has given us to search; our hearts so it can be filled with God's love.
Every day we need to dwell daily as a little child with the Father so we can show His love to the world.
More Conversations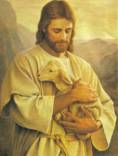 Send This Page to a Friend