October 14
October 14
GOD'S WORD: 1 Corinthians 3:16-17 "God created us as a dwelling place in which to show forth His Glory. Know ye not? Christ lives in us! We will be strengthened in Him in everything as we surrender to the Holy Spirit to do it.
GOD'S WORD: Jeremiah 29:13 "Then you will seek Me, inquire for, and require Me [as a vital necessity] and find Me when you search for Me with all your heart."
SHEEP: The Holy Spirit desires to show His full power in our lives. He has the right. Here is the whole Godhead who wants to take full possession in every area of our lives.
More Conversations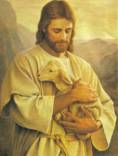 Send This Page to a Friend