October 10
October 10
GOD'S WORD: John 16:14 "The Spirit shall glorify me"
SHEEP: means the Spirit would reveal Himself to us
The Lord earnestly desires for us that the glory of Jesus be in our hearts. Our place is to have fellowship with Him, keep His Commandments and do all this in His Name. Then we can count on the secret but powerful working of the Spirit within us.
Remember, meditate on Ephesians 5:22-23. The Holy Spirit will bring the fruit to ripen in us. The great desire of the Holy Spirit and the Father is that Christ may be glorified in and through us.
Romans 10:1-13 An active faith speaks with its lisps what the heart believes of the Promises. What do I believe? Help my unbelief.
More Conversations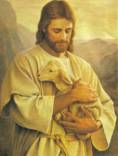 Send This Page to a Friend