October 8
October 8
SHEEP: Using God's Word in our prayers – Luke 8:50 Do not be afraid, only believe and she shall be made whole.
Mark 11:22-24 Faith – inward confidence, assurance, trust and reliance in God and all that He says – believe The word of God will work in us what is promised in that word. Prayer is an expression of our needs and desires. We are to use the Word as a guide to what God will do for us. SPEAK THE WORD – John 10:10. "The thief comes only in order to steal and kill and destroy. I came that they may have and enjoy life, and have it in abundance (to the full, till it[a]overflows)."
As we give ourselves to Him, God gives Himself to us – real possibility of health – spirit, soul and body – we must believe. He intends to restore man to what the Father intended for us before the enemy robbed us of it.
More Conversations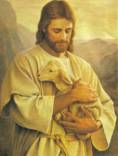 Send This Page to a Friend