October 6
October 6
GOD'S WORD: Isa. 12:1-6 "And in that day you will say, I will give thanks to You, O Lord; for though You were angry with me, Your anger has turned away, and You comfort me.
Behold, God, my salvation! I will trust and not be afraid, for the Lord God is my strength and song; yes, He has become my salvation. Therefore with joy will you draw water from the wells of salvation. And in that day you will say, Give thanks to the Lord, call upon His name and by means of His name [in solemn entreaty]; declare and make known His deeds among the peoples of the earth, proclaim that His name is exalted! Sing praises to the Lord, for He has done excellent things [gloriously]; let this be made known to all the earth. Cry aloud and shout joyfully, you women and inhabitants of Zion, for great in your midst is the Holy One of Israel.
SHEEP: I will praise (thank you with uplifted hands) – Yah (joyous worship) praise the Lord.
Cry – break forth in joy and singing – He has redeemed us. The mighty one has saved us! Strength – David danced before the Lord with all his strength.
More Conversations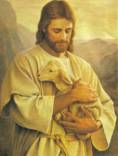 Send This Page to a Friend