October 5
October 5
SHEEP: The desire that burns within me (my heart) is the fuel God uses or enables me to withstand whatever life sends against me. His strength is in my weakness. Phil 4:13, "I can do all things through Christ who strengthens me." John 15:15, "bear fruit by abiding in Him." Nothing is impossible to Him who believes.
Psalm 71:7-9; 14-24 All of life – good and bad – under God's providence.He desires full restoration for us – we are to press on to know Him, so He can bring rich blessing to us. Deny flesh lusts so the Holy Spirit can be in control.
GOD'S WORD: 1 Peter 4:16 "But if [one is ill-treated and suffers] as a Christian [which he is contemptuously called], let him not be ashamed, but give glory to God that he is [deemed worthy to suffer] in this name."
2 Cor. 12:9 " But He said to me, My grace (My favor and loving-kindness and mercy) is enough for you [sufficient against any danger and enables you to bear the trouble manfully]; for My strength and power are made perfect (fulfilled and completed) and [a]show themselves most effective in [your] weakness. Therefore, I will all the more gladly glory in my weaknesses and infirmities, that the strength and power of Christ (the Messiah) may rest (yes, may[b]pitch a tent over and dwell) upon me!"
Eph. 3:14-16 " For this reason [[a]seeing the greatness of this plan by which you are built together in Christ], I bow my knees before the Father of our Lord Jesus Christ, 15 For Whom every family in heaven and on earth is named [that Father from Whom all fatherhood takes its title and derives its name]. 16 May He grant you out of the rich treasury of His glory to be strengthened and reinforced with mighty power in the inner man by the [Holy] Spirit [Himself indwelling your innermost being and personality].
Isa. 40:31 "But those who wait for the Lord [who expect, look for, and hope in Him] shall change and renew their strength and power; they shall lift their wings and mount up [close to God] as eagles [mount up to the sun]; they shall run and not be weary, they shall walk and not faint or become tired."
SHEEP: Mount up with wings of eagles – in the power and strength of His might – victoriously!More Conversations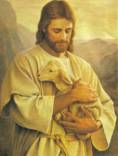 Send This Page to a Friend