October 1
October 1
GOD'S WORD: Heb. 12:1,2 "here fore then, since we are surrounded by so great a cloud of witnesses [who have borne testimony to the Truth], let us strip off and throw aside every encumbrance (unnecessary weight) and that sin which so readily (deftly and cleverly) clings to and entangles us, and let us run with patient endurance and steady and active persistence the appointed course of the race that is set before us, 2 Looking away [from all that will distract] to Jesus, Who is the Leader and the Source of our faith [giving the first incentive for our belief] and is also its Finisher [bringing it to maturity and perfection]. He, for the joy [of obtaining the prize] that was set before Him, endured the cross, despising and ignoring the shame, and is now seated at the right hand of the throne of God.
SHEEP: Strip off, throw away – every sin which entangles us. Run with patience endurance the appointed course that is set before us. Look to Jesus – source of our faith, with joy he endured, despising the shame.
Father, I can't go on the path you have for me without your grace. Help me, Father, I am weak. According to your word, "In my weakness, your strength is made perfect in me." I'm not sure what that means, but I want to know. Help me. I look to you.
SHEPHERD: The time is coming and nigh unto being a reality when my glory will be seen in through and about you. Hold on, my beloved, you are not alone. I am with you every step of the way. The joy of the morning is yours. These are my words to you. You are not making them up. Hold on to me, the author and finisher of your faith
GOD'S WORD: 2 Cor. 12:8-11 8 "Three times I called upon the Lord and besought [Him] about this and begged that it might depart from me; 9 But He said to me, My grace (My favor and loving-kindness and mercy) is enough for you [sufficient against any danger and enables you to bear the trouble manfully]; for My strength and power are made perfect (fulfilled and completed) and [a]show themselves most effective in [your] weakness. Therefore, I will all the more gladly glory in my weaknesses and infirmities, that the strength and power of Christ (the Messiah) may rest (yes, may[b]pitch a tent over and dwell) upon me!
So for the sake of Christ, I am well pleased and take pleasure in infirmities, insults, hardships, persecutions, perplexities and distresses; for when I am weak [[c]in human strength], then am I [truly] strong (able, powerful [d]in divine strength). 11 Now I have been [speaking like] a fool! But you forced me to it, for I ought to have been [[e]saved the necessity and] commended by you. For I have not fallen short one bit or proved myself at all inferior to those superlative [false] apostles [of yours], even if I am nothing (a nobody).
SHEEP: His strength and power are completed and show themselves effective in my weakness. My weakness is being perplexed and distressed over being weak physically. Forgive me and grace me to put TRUST YOU COMPLETELY. in the path you have chosen for me to walk – to walk it in FAITH, believing you completely. By your stripes, I am healed and I will walk physically and in faith victoriously.
More Conversations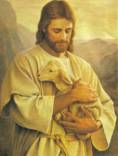 Send This Page to a Friend