November 28 & 29
November 28
SHEEP: Be it according to your will for Your glory, Father – for Your Glory!
SHEPHERD: It will be, My Beloved, and it is nigh unto being a reality. People will see what I do for those who set their hearts toward Me. New days are before you and without a doubt they will see My Hand in it all.
You can't even imagine what I have personally planned for you for My Glory. The things I have required of you have not nor will they ever be for nothing. They all accomplish My purpose.
Joy unspeakable, inexpressible joy is yours. Expect the unfolding of it all by years end. My Hand will not be shortened for you and Neal. There will be many changes that will humble you Your understanding will be opened more and more. Joy unspeakable is yours. Keep these words and see if they are true.
All things new for My Glory and Praise. No greater Joy can you know than this You both in the perfect will of their Father. fulfilling His purposes for both of you. .Amen!
This is the season of being pregnant with what is to come – a time of expecting the fulfillment of God. Promises to restore His people.
SHEEP: 1 Thess. 5:16-24 To live expectantly; we are to rejoice and pray, to give thanks in everything, to cling to good and reject evil. Prepare our hearts to receive Christ and restore our faith with expectant hope.
More Conversations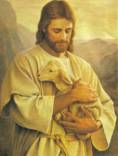 Send This Page to a Friend