November 14
November 14
SHEEP: All hope of real glory is Christ's life living in us.
We have been reconciled to God through the blood of Jesus on the cross to present us:
Wholly and blameless in His presence. – Eph. 5:21 without spot or wrinkle.
Not moved away from the faith – Eph. 3:17, Isa. 45:4-5. God loves His people and cares for them. By opening our selves up to Him we will find that the attributes of God will flow us.
Not moved from the hope. John 15:6 abiding in Him Rooted and grounded in His love – like a strong foundation
More Conversations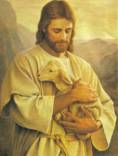 Send This Page to a Friend