November 13
November 13
SHEEP: The life and love of God living in our heart.
Study in Colossians
In Christ we find completeness:
He is God's son, His exact likeness
He is Lord over all, creator and savior
Our first priority is fellowship with Him and being aware of others with their needs.
To walk worthy of the Lord
Be filled with the knowledge of Him, By pleasing Him.
Be filled and strengthened with supernatural power.
Be thankful we are partakers "of the inheritance of the saints" – "He who first trusted Christ will be to the praise of His glory." Eph. 1:12
Be victorious over the powers of darkness.
1 Peter 4 Whoever has suffered in the flesh (having the mind of Christ)
Done away with intention sin
Stop pleasing self – pleasing God – lives for what Christ wants
We can live in the spirit as God does. Being holy is being set apart for God and from the world. If committed to God's holiness – say, "no" to fleshly demands. Keep mind clear and committed to God. Pray and love one another fervently.
Faith in Christ is the completed work of the cross. Christ is preceded by the denial of the fleshly lusts so that the spirit is in control – the will of God ceasing from sin.
Know for a fact, my glory will be revealed in, through and about you – my purpose for you will (most assuredly so) be revealed! New days are fast approaching for you and Neal – days of joy and humbling yourself before me because of what I will do! Amen ! My glory will be seen!
More Conversations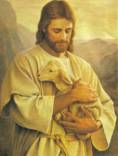 Send This Page to a Friend