November 7 & 8
November 7
SHEEP: Our salvation is being saved from ourselves. IT must be the humility of God manifested in our human nature, This leads us to know, we can do nothing in ourselves.
The Kingdom of God, which is righteousness, peace and joy of the Holy Spirit, is God reigning in our hearts. He rules as He does in Heaven
Heb. 12:1-11 - A PRAYER
Father, I accept your discipline as necessary for spiritual growth – I will not accept the enemy's taunts.
I will to trust you completely knowing you will not leave me but will see me through this time of weakness to victory. In my weakness you are made strong.
Grace me, Lord, to have the right attitude of heart that will produce your fruit of righteousness. (
I will look intently to Jesus. (contemplate what He has done for me.). and look away, over and beyond the present circumstances. He is the author and finisher of my faith.
By your grace, I will endure (abide under patiently and persevere) despising (to think against) the shame (disgrace, humiliation and pride) and humble myself before you for the exceedingly great joy that is before me.
This is evident of your love for me as your child and I will, am coming forth in VICTORY for your glory, honor and praise! Amen
(a) accept your correction (chastening) - I am an apprentice to Jesus, learning to live as he did. God disciplines His children, correcting and training them to live in His Kingdom. If we receive this with the right attitude of heart, it produces the fruit of righteousness. He is bringing us to maturity.
Chastening – education or training, by implication it means disciplinary correction – instruction, nurture.
(b) Fruit of righteousness – conformity to God's will and purpose, thought, and actions; resulting in right living and right standing with God.
More Conversations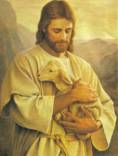 Send This Page to a Friend