November 1
November 1
SHEEP: We are called to be holy as our Heavenly Father is. This thought should be alive and striving within us daily.
GOD'S WORD: Hebrews 11:6, "But without faith it is impossible to please and be satisfactory to Him. For whoever would come near to God must [necessarily] believe that God exists and that He is the rewarder of those who earnestly and diligently seek Him [out]."
SHEEP: Devotion is a concentration on a particular pursuit or purpose. He who is devoted to God recognizes His flesh has a tendency to become lazy and strive to avoid it.
The Lord saves us from ourselves, our fallen nature. We've been created for you. Make us a live in you by the operation of your Holy Spirit, being fully dependent and obedient to Him. "Let it be to me according to your will."
GOD'S WORD: Hebrews 11:32 "Out of weakness they were made strong"
SHEEP: Their deliverance was from God. God Prevails in ALL our suffering and difficulties.
GOD'S WORD: Hebrews 11:40 "Because God had us in mind and had something better and greater in view for us, so that they [these heroes and heroines of faith] should not come to perfection apart from us [before we could join them]."
Not made perfect apart from us.
1. Hebrews 5:9 "And, [His completed experience] making Him perfectly [equipped], He became the Author and Source of eternal salvation to all those who give heed and obey Him,"
2. Hebrews 2:10 "For it was an act worthy [of God] and fitting [to the divine nature] that He, for Whose sake and by Whom all things have their existence, in bringing many sons into glory, should make the Pioneer of their salvation perfect [should bring to maturity the human experience necessary to be perfectly equipped for His office as High Priest] through suffering."
3. Romans 6:17 "But thank God, though you were once slaves of sin, you have become obedient with all your heart to the standard of teaching in which you were instructed and to which you were committed."
SHEEP: I'm convinced that the Holy Spirit uses our sufferings and difficulties to fulfill God's purposes and plans for us. Also to create us in His image. Nothing but good comes from it and we will come through it all victoriously.
So in the meantime we give praise and thanksgiving for each day has been prepared for us just like He said to me when I was crying out to Him:
SHEPHERD: Be still and know that I am God. I am, Almighty God, creator of the universe. I am your savior who loves you. You are the works of MY hands-I gave my life for you. Nothing, absolutely nothing is impossible with me at your side.
Your place is to trust me-just as a little child would. The way may seem impossible, difficult, but you are not alone.
I am with you every step of the way. I'm fulfilling My purpose in you and preparing the way for you to minister for me in my name. Soon you'll be soaring like an eagle, strong and confident in me learning I will never fail you.
Yes, my beloved, those new days are being birthed in your innermost being. I will not fail you-you'll see. You will be infused with my strength and power in my name.
Consider not what you see or experience. Look ahead to the new days when My Glory will be seen and experienced. Rest in knowing I love you.
More Conversations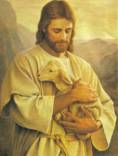 Send This Page to a Friend