See the Deliverance of the Lord
May 31
GOD'S WORD: 2 Chronicles 20:17-21 You shall not need to fight in this battle; take your positions, stand still, and see the deliverance of the Lord [Who is] with you, O Judah and Jerusalem. Fear not nor be dismayed. Tomorrow go out against them, for the Lord is with you. And Jehoshaphat bowed his head with his face to the ground, and all Judah and the inhabitants of Jerusalem fell down before the Lord, worshiping Him. And some Levites of the Kohathites and Korahites stood up to praise the Lord, the God of Israel, with a very loud voice.
And they rose early in the morning and went out into the Wilderness of Tekoa; and as they went out, Jehoshaphat stood and said, Hear me, O Judah, and you inhabitants of Jerusalem! Believe in the Lord your God and you shall be established; believe andremain steadfast to His prophets and you shall prosper.
When he had consulted with the people, he appointed singers to sing to the Lord and praise Him in their holy [priestly] garments as they went out before the army, saying, Give thanks to the Lord, for His mercy and loving-kindness endure forever!
SHEEP: Stand still; Fear not; Lord is with you; Worship Him, Praise Him, Believe, be established. Give thanks for His mercy and goodness.
More Conversations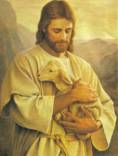 Send This Page to a Friend