I Will Not Fail You or Forsake You
May 27
SHEEP: Through experience we learn about the "miracle working God." Getting through trying times 1. Have to believe you're not alone.
GOD'S WORD: Ps. 23:4 "Yes, though I walk through the [deep, sunless] valley of the shadow of death, I will fear or dread no evil, for You are with me; Your rod [to protect] and Your staff [to guide], they comfort me."
Genesis 28:15 "And behold, I am with you and will keep (watch over you with care, take notice of) you wherever you may go, and I will bring you back to this land; for I will not leave you until I have done all of which I have told you."
Joshua 1:5 "No man shall be able to stand before you all the days of your life. As I was with Moses, so I will be with you; I will not fail you or forsake you."
Isaiah 43:2 "When you pass through the waters, I will be with you, and through the rivers, they will not overwhelm you. When you walk through the fire, you will not be burned or scorched, nor will the flame kindle upon you."
2. People are praying for you. You need to be praying. 1 Peter 5:7
3. Believe you will survive.
GOD'S WORD: Daniel 3:11 "And that whoever does not fall down and worship shall be cast into the midst of a burning fiery furnace."
SHEEP: Can't let the devil distract you from what you believe. Overcome the enemies: Greater is He that is in me than he that is in the world. In the situation praise and thank Him. His strength is made perfect inn my weakness.
More Conversations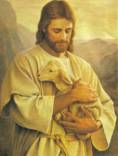 Send This Page to a Friend