God is Sovereign
May 23
SHEEP: God is sovereign over my circumstances – humble myself – rejoice -keep fixing my eyes on Him, no matter what.
GOD'S WORD: 1 Peter 5:6 "Therefore humble yourselves [demote, lower yourselves in your own estimation] under the mighty hand of God, that in due time He may exalt you."
John 14:6 "Jesus said to him, I am the Way and the Truth and the Life; no one comes to the Father except by (through) Me."
More Conversations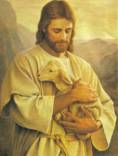 Send This Page to a Friend