I Will Lead You
May 19
SHEEP: I woke up this morning feeling good. I even heard the Lord say, to look expectantly for changes to occur in my life for the good. Didn't take long, however, for me to begin feeling so weak - I could hardly stand.
I had written earlier these words:
Father, forgive me! There are many more in this world that are certainly worse off more than I am, but I am so frustrated!
I woke up this morning and felt so good - even walking better - but it doesn't take long before I become so weak I can't stand!
What do you want of me? Or what are You trying to tell me? It's fear, I feel, I guess.
I don't understand what's going on and it frustrates me. Just tell me what You want of me.
Search my heart and try me – I guess I'm in the "try me" part. I certainly can see I don't trust as that little child or I wouldn't question as much. Forgive me, Lord. All I know to do is to cry out for Your GRACE. Bring me to that place - or way You want me to be. You are my only hope. Help me. Show me. Do whatever I need. Direct my path. Make your way known to me. I need you. I'm desperate for You! He replied:
SHEPHERD: Step by step I will lead you. And you will follow me all the way. I know your heart, trust me. Lean not to your own understanding and I will direct your ways. You have acknowledged Me - NOW. I will direct your every step. You need not understand, simply trust that I am in your life-your place is to trust Me as you saw that baby trusting her mother no matter how frightening it looked to you.
SHEEP: I opened God Calling and read:
I, The Creator of the Universe, am with you and for you. What more could you need? When you feel some lack, it is because you are not connecting with Me at a deeper level. I offer abundant life; your place is to trust Me, refusing to worry about anything.
He went on to say:
SHEPHERD:It's your thoughts about the adverse events that make you anxious. You keep trying to take control-to bring about the desire you have. Don't forget-I am in charge of your life. Focus on My Presence-stay strong-watch to see what I will do. I am the Lord.
GOD'S WORD: Romans 8:30-31 "And those whom He thus foreordained, He also called; and those whom He called, He also justified (acquitted, made righteous, putting them into right standing with Himself). And those whom He justified, He also glorified [raising them to a heavenly dignity and condition or state of being]."
"What then shall we say to [all] this? If God is for us, who [can be] against us? [Who can be our foe, if God is on our side?]"
GOD'S WORD: Micah 7:7 "But as for me, I will look to the Lord and confident in Him I will keep watch; I will wait with hope and expectancy for the God of my salvation; my God will hear me."
More Conversations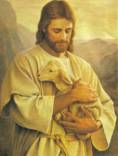 Send This Page to a Friend