I Will Live in Trusting Dependence
May 14
SHEEP: Father, into thy hands I commit my spirit.
GOD'S WORD: Luke 23:46 "And Jesus, crying out with a loud voice, said, Father, into Your hands I commit My spirit! And with these words, He expired."
SHEEP: Surrendering into my father's hands, trusting Him in the dark, dying to this self -- casting myself on Him without knowing how the new life will be attained; This will be fulfilled in me: the promises of the Word concerning "exceedingly greatness of his power and those who believe, according to the power wrought in Christ when He raised Him from the dead."
This is the true test of faith: to live every day and every hour in the absolute dependence on the continual and enriching quickening of the divine life in us by God himself through the Holy Spirit.
I will live in trusting dependence on His limitless resources. When difficulties come, He will equip me fully to handle them. I will talk to Him and listen to Him as He walks with me.
GOD'S WORD: Luke 1:37 "For with God nothing is ever impossible and no word from God shall be without power or impossible of fulfillment."
2 Corinthians 12:9 "But He said to me, My grace (My favor and loving-kindness and mercy) is enough for you [sufficient against any danger and enables you to bear the trouble manfully]; for My strength and power are made perfect (fulfilled and completed) and [a]show themselves most effective in [your] weakness. Therefore, I will all the more gladly glory in my weaknesses and infirmities, that the strength and power of Christ (the Messiah) may rest (yes, may [b]pitch a tent over and dwell) upon me!"
More Conversations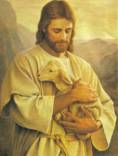 Send This Page to a Friend