Prepare the Way of the Lord
March 29
SHEPHERD: This is the season receiving My blessings. Receive them with joy and thanksgiving. It is my gift to you.
Those new days you've longed for are upon you. Thursday was but a foretaste of it all. With the receiving will be the giving – giving and receiving – all for My Glory.
Joy - abundant joy is before you. You will walk with a knowing of who reigns in your life and you will be awed at all that is before you.
These are the days I have prepared for you – sing and be glad in it all. The King of Kings, Lord of Lord reigns in your life for the glory of His Name – you'll see and experience it all. This will have an effect on Neal. Behold it all with joy. This is My gift to you My faithful servant. From a little child on, I have prepared you for this (before the foundation of the world, I chose you) Nothing in your life has gone unnoticed. It all has accomplished My purposes for you. – the good and the bad.
Carefully and tenderly I watch over all My children. Yes, My beloved, these days of receiving are here – days of fullness and completeness in and for Me. Prepare the way of the Lord,
More Conversations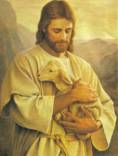 Send This Page to a Friend