I AM Has Sent Me to You
March 27
SHEPHERD: My beloved, you can't imagine what is before you. If you were blessed last night by what I did, you haven't seen anything yet. I will confound your mind by what I choose to do through you in simplicity and trust in which you come to Me. Your eyes have not seen, nor ears heard, nor even entered in your heart what I have prepared for you. You will be humbled more and more and it will engraved in you that truly it is My Hand that is doing it through you. You will not even want to take the glory.
It is as you read this morning. Ex 3:14,18 And God said to Moses, I AM WHO I AM and WHAT I AM, and I WILL BE WHAT I WILL BE; and He said, You shall say this to the Israelites: I AM has sent me to you! 18 And [the elders] shall believe and obey your voice; and you shall go, you and the elders of Israel, to the king of Egypt and you shall say to him, The Lord, the God of the Hebrews, has met with us; and now let us go, we beseech you, three days' journey into the wilderness, that we may sacrifice to the Lord our God.
SHEPHERD: Truly you will come to Me and speak for Me in simplicity and trust. And you will be amazed in what you experience. (as you did last night) This will keep you by My side where I desire you to be in simple child like trust.
/div>
More Conversations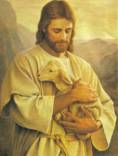 Send This Page to a Friend