He Who Believes Will Not be Flustered
March 13
GOD'S WORD: Isaiah 28:16, Therefore thus says the Lord God, Behold, I am laying in Zion for a foundation a Stone, a tested Stone, a precious Cornerstone of sure foundation; he who believes (trusts in, relies on, and adheres to that Stone) will not be ashamed or give way or hasten away [in sudden panic].
Romans 9:33 As it is written, Behold I am laying in Zion a Stone that will make men stumble, a Rock that will make them fall; but he who believes in Him [who adheres to, trusts in, and relies on Him] shall not be put to shame nor be disappointed in his expectations.
Isaiah 49:23, And kings shall be your foster fathers and guardians, and their queens your nursing mothers. They shall bow down to you with their faces to the earth and lick up the dust of your feet; and you shall know [with an acquaintance and understanding based on and grounded in personal experience] that I am the Lord; for they shall not be put to shame who wait for, look for, hope for, and expect Me.
1 Peter 2:24 He personally bore our sins in His [own] body on the tree [a][as on an altar and offered Himself on it], that we might die (cease to exist) to sin and live to righteousness. By His wounds you have been healed.
SHEEP I will not be disappointed. I am healed and will behold the healing of my body as I wait expectantly for Him.
More Conversations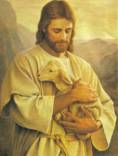 Send This Page to a Friend