According to Your Steadfast Love
March 5
SHEPHERD: Write this down. These are days when you and others will see and experience my miraculous hand moving in behalf of my children. With this will come a responsibility. I desire to pour out my spirit upon the land individually and collectively.
If my people will humble themselves and pray and seek my face and turn from their wicked ways then I will hear and I will heal their land. A complete change will occur in the hearts, lives whatever the need may be and they will revere me. Yes, You have heard me. These are my words you are hearing. Doubt no more. Expect to see and experience for yourself as well. Many changes – spirit, soul and body. It is my desire that it be so. Weeping has endured, it is time for the tears of joy. If my people, then I will.
SHEEP: Christ crucified life lives in me.
GOD'S WORD: Psalm 51 Have mercy upon me, O God, according to Your steadfast love; according to the multitude of Your tender mercy and loving-kindness blot out my transgressions. 2 Wash me thoroughly [and repeatedly] from my iniquity and guilt and cleanse me and make me wholly pure from my sin! For I am conscious of my transgressions and I acknowledge them; my sin is ever before me.4 Against You, You only, have I sinned and done that which is evil in Your sight, so that You are justified in Your sentence and faultless in Your judgment. Behold, I was brought forth in [a state of] iniquity; my mother was sinful who conceived me [and I too am sinful]. Behold, You desire truth in the inner being; make me therefore to know wisdom in my inmost heart. Purify me with hyssop, and I shall be clean [ceremonially]; wash me, and I shall [in reality] be whiter than snow.8 Make me to hear joy and gladness and be satisfied; let the bones which You have broken rejoice. Hide Your face from my sins and blot out all my guilt and iniquities. Create in me a clean heart, O God, and renew a right, persevering, and steadfast spirit within me.
11 Cast me not away from Your presence and take not Your Holy Spirit from me. Restore to me the joy of Your salvation and uphold me with a willing spirit. Then will I teach transgressors Your ways, and sinners shall be converted and return to You. Deliver me from blood guiltiness and death, O God, the God of my salvation, and my tongue shall sing aloud of Your righteousness (Your rightness and Your justice).
O Lord, open my lips, and my mouth shall show forth Your praise. 16 For You delight not in sacrifice, or else would I give it; You find no pleasure in burnt offering. My sacrifice [the sacrifice acceptable] to God is a broken spirit; a broken and a contrite heart [broken down with sorrow for sin and humbly and thoroughly penitent], such, O God, You will not despise.
Do good in Your good pleasure to Zion; rebuild the walls of Jerusalem. Then will You delight in the sacrifices of righteousness, justice, and right, with burnt offering and whole burnt offering; then bullocks will be offered upon Your altar.
SHEEP: Trust Him in every circumstance in your life.
GOD'S WORD:Romans 8:28 We are assured and know that God being a partner in their labor all things work together and are [fitting into a plan] for good to and for those who love God and are called according to [His] design and purpose.
1 Cor. 1:23-24 We preach Christ (the Messiah) crucified, [preaching which] to the Jews is a scandal and an offensive stumbling block [that springs a snare or trap], and to the Gentiles it is absurd and utterly unphilosophical nonsense. 24 But to those who are called, whether Jew or Greek (Gentile), Christ [is] the Power of God and the Wisdom of God.
SHEEP: Jesus Christ crucified is the power of God and the wisdom of God.
March 6
SHEPHERD; There will come a time (and it is soon, nigh unto being a reality) when you and Neal will lay hands on the sick, (spiritually. physically and emotionally) and see them restored. You'll see and experience them for yourself as well. My Spirit is coming and will move leaving the evidence of My resurrection power.
SHEEP: He did not give for naught – what He has done on Calvary was finished.
SHEPHERD: By My stripes you are healed and the gates of Hell cannot prevail. They have been defeated. Speak the power of My Name and the blood that was slain. Victory in the powerful Name of Jesus. – the name above all Names.
In simplicity and trust I have called you. In simplicity and trust you will go forward in my name. These new days are here. You'll see. You will be confounded and humbled by what you will see and experience.
Joy at all that is before you and Neal. This home will be known as a home of comfort and peace, of restoration and healing. What I have purposed to be so will be – is! Amen and amen.
Nothing I have required of you has been for naught. – nothing. It has accomplished all I have prepared it to be and will continue to be. I am well pleased with you. Go forth in the power and strength of my Spirit. Go forth in the healing I have for you. Receive all this with joy. It has been my plan for you all along. Joy, joy, joy! Jesus, Others, Yourself. In simplicity and trust Amen.
New days – days I have planned for you. You'll see!!
More Conversations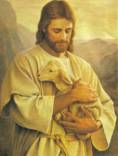 Send This Page to a Friend