Christ Lives In Me
June 30
SHEEP: Do I believe in the victory that faith gives to overcome the world?
GOD'S WORD: 1 John 5:5 "Who is it that is victorious over [that conquers] the world but he who believes that Jesus is the Son of God [who adheres to, trusts in, and relies on that fact]?"
>Mark 9:24 "At once the father of the boy gave [an eager, piercing, inarticulate] cry with tears, and he said, Lord, I believe! [Constantly] help my weakness of faith!"
SHEEP: Remove all doubt and grant unquestioning faith. I have victory over the power of the world with all it's lusts. I have been crucified with Christ, yet, it is not I, but Christ who lives in me. I bring my mustard seed of faith to You, Lord. I put my trust in Your mighty power and abiding Presence of Jesus as my only pledge of continuous victory. He will work in me what is pleasing in His sight. He will!
More Conversations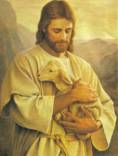 Send This Page to a Friend