Stir Our Hearts
June 16
SHEEP: Father, I thank you for your great salvation you have given us through Jesus Christ. Give us all a vision of the abundant life we have in you.
Stir our hearts to an unending longing to truly know what Jesus Christ is meant to be to us. We look to the power of your Holy Spirit for we don't give Him the place in our hearts that we should have. Give us enough insight into the need, the power, into the blessedness of a wholehearted faith in Jesus Christ and the unreserved surrender to His Lordship. Then our hearts will be prepared to receive Him in the fullness of His love and abiding Presence.
Give us insight into your promise to fulfill every promise and a humble child like trust in your faithfulness. – to You be the Glory!
/div>
More Conversations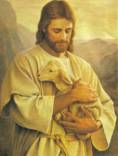 Send This Page to a Friend