In His Time
June 14
SHEEP: My Father, I don't have adequate words to say "Thank You" for what You are doing for me. I proclaim I am healed. You spoke to me from the moment worship started.
In His time, In His time
He makes all things beautiful, in His time
Lord, please show me everyday
As You're teaching me Your way
That You do just what You say
In Your time.
I look expectantly for the manifestation of Your healing touch, however You choose for You are healing the whole man - spirit, soul and body.
GOD'S WORD: Psalm 138 " I will confess and praise You [O God] with my whole heart; before the gods will I sing praises to You. I will worship toward Your holy temple and praise Your name for Your loving-kindness and for Your truth and faithfulness; for You have exalted above all else Your name and Your word and You have magnified Your word above all Your name! In the day when I called, You answered me; and You strengthened me with strength (might and inflexibility to temptation) in my inner self. All the kings of the land shall give You credit and praise You, O Lord, for they have heard of the promises of Your mouth [which were fulfilled].5 Yes, they shall sing of the ways of the Lord and joyfully celebrate His mighty acts, for great is the glory of the Lord.
For though the Lord is high, yet has He respect to the lowly [bringing them into fellowship with Him]; but the proud and haughty He knows and recognizes [only] at a distance. Though I walk in the midst of trouble, You will revive me; You will stretch forth Your hand against the wrath of my enemies, and Your right hand will save me. 8 The Lord will perfect that which concerns me; Your mercy and loving-kindness, O Lord, endure forever—forsake not the works of Your own hands.
SHEEP: He's still working on me
To make me what I outta be
It took Him just a week to make
The moon and the stars
The sun and the earth
And Jupiter and mars
How loving and patient
He must be
Cause he's still working on me.
More Conversations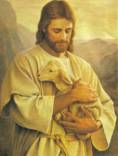 Send This Page to a Friend