The Joy of the Morning Has Come
June 10
SHEEP: Before I sat down for my time with the Lord, He began speaking these words.
SHEPHERD: New days are before you. Expect many changes to come about in your life – spirit, soul and body – changes for the good. Stay close to me for all things. I am your source to everything. You will testify of all that I have done for you and yes, these are my words to you. Doubt no longer.
In simplify and trust I have called you. That is the way you have walk. Joy will abound in your life – the joy of knowing that you are in the will of your Master and Savior. Neal, too, will come forth in my strength and power and will humbly know that it is my hand that has brought it all about. Humbly, I say, you'll see. You both will know that it is my hand that has accomplished it all.
The morning of joy has come. Believe it. Walk as though you know it. Well done, my faithful servant. Enter into the joy of your master.
More Conversations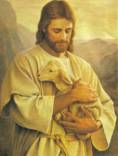 Send This Page to a Friend