July 29
July 29
SHEEP: I am in Christ.
GOD'S WORD: 1 Corinthians 1 :30 "But it is from Him that you have your life in Christ Jesus, Whom God made our Wisdom from God, [revealed to us a knowledge of the divine plan of salvation previously hidden, manifesting itself as] our Righteousness [thus making us upright and putting us in right standing with God], and our Consecration [making us pure and holy], and our Redemption [providing our ransom from eternal penalty for sin]."
SHEEP: God will establish us through His Holy Spirit as we choose from our hearts to abide in Him.
Ask what I will, I will have it.
Buried with Christ – dead to sin and alive unto God through Christ
No condemnation in Christ.
Blessed with all spiritual blessings in Christ.
Chosen in Him
Accepted in Him
Redeemed in Him
In Him dwells all the fullness
Perfect in Him as we walk in Him
Complete in Him.
Father, all I know is I want the fullness of what You have made available to me in Christ. Grace me to hold on as we walk this path chosen for me for Your Glory.
More Conversations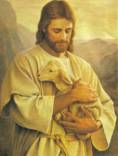 Send This Page to a Friend