July 28
July 28
GOD'S WORD: Psalm 46:10 "Let be and be still, and know (recognize and understand) that I am God. I will be exalted among the nations! I will be exalted in the earth!
SHEEP: Still - silent waiting and expectant hope
SHEPHERD: With expectant hope and trust look to Me, I will fulfill all the desires of your heart – NOW - My Hand is upon you to do good.
GOD'S WORD: ( cares - burdens, worries, distractions) Casting the whole of your care [all your anxieties, all your worries, all your concerns, once and for all] on Him, for He cares for you affectionately and cares about you ]watchfully.
Psalm 37:3-6 "Trust (lean on, rely on, and be confident) in the Lord and do good; so shall you dwell in the land and feed surely on His faithfulness, and truly you shall be fed.
Delight yourself also in the Lord, and He will give you the desires and secret petitions of your heart. Commit your way to the Lord [roll and repose each care of your load on Him]; trust (lean on, rely on, and be confident) also in Him and He will bring it to pass. And He will make your uprightness and right standing with God go forth as the light, and your justice and right as [the shining sun of] the noonday.
GOD'S WORD: Psalm 55:22 "Cast your burden on the Lord [releasing the weight of it] and He will sustain you; He will never allow the [consistently] righteous to be moved (made to slip, fall, or fail)." SHEEP Faith is a conscious choice to act on what God has said is true. It requires practice to grow and become strong. It is released through acts of obedience. It requires a singleness of commitment that draws us from doubt and wavering.
More Conversations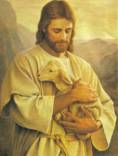 Send This Page to a Friend