July 26
July 26
GOD'S WORD: Gal. 3:29 "And if you belong to Christ [are in Him Who is Abraham's Seed], then you are Abraham's offspring and [spiritual] heirs according to promise.
Romans 13:14 "But clothe yourself with the Lord Jesus Christ (the Messiah), and make no provision for [indulging] the flesh [put a stop to thinking about the evil cravings of your physical nature] to [gratify its] desires (lusts).
Just as I put on my clothes each day, I put on Jesus Christ. I no longer live after the flesh but I show forth the image of Christ: formed into His likeness. He will be my beauty, defense and joy.
Heb. 11:34 – Out of my weakness – made strong.
Heb. 4:15 – Have a High Priest who understands.
Romans 8:18-26 – Groaning in spirit.
Isa. 40:29-31 – Wait expectantly and hopefully in the Lord, mount up as eagles
Joel 3:10 – Let the weak say I am strong.
2 Cor. 12:9 – My strength (God) made perfect in weakness.
Grace – from root charo – joy chatro – rejoicing. The weakness is God's control agent to bring about character development. God's grace enables us to continue. We become strong in Jesus.
More Conversations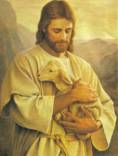 Send This Page to a Friend