July 25
July 25
GOD'S WORD: Ephesians 2:10 "For we are God's [own] handiwork (His workmanship), recreated in Christ Jesus, [born anew] that we may do those good works, which God predestined (planned beforehand) for us [taking paths which He prepared ahead of time], that we should walk in them [living the good life which He prearranged and made ready for us to live].
We have been made alive in fellowship with Christ to d o what He has planned for us!
Keep us in Your way Lord. May we all yield ourselves to You to receive all You (in Your great mercy) have for us. Thank You for Your faithfulness and mercy that continually follows us all the days of our lives.
We are everything Psalm 89 says if: 1 John 2:15 we are careful not to love the world.
Our example is Eve in the Garden of Eden.
Lust of the flesh - she saw the tree was good for food
Lust of the eyes- it was pleasing to the eye
Boastful pride of life - makes one wise - knows and understands everything
Our daily fellowship with the Lord is extremely necessary to keep our focus on Him.
More Conversations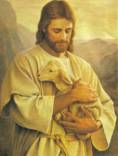 Send This Page to a Friend