July 20
July 20
SHEEP: Wow! What a blessed time with the Lord! My words are inadequate to convey it. "Thank you for the Cross, My Friend" keeps running through my mind.
Almighty God, My Creator, Redeemer, Savior, Healer, Deliver, etc. is my Friend! He is our all in all. Our reason for being and I am awed of His ways with us! His mercy and goodness follows us all of our days! We have the privilege of fellowshipping with Him!! He delights in this, in fact, He created us for that very thing. Think about that!
This morning, I felt impressed to read Psalm 91. As I was turning to it, a paper fell out. This is what it said:
Thank you, Father, for the challenges in my life. They are not mistakes. They are hand tailored blessings designed for me for my benefit and growth; for You will bring good out of them.
In reality, they are opportunities to show me how much I need You! They are doorways to deep dependency on You and an increasing intimacy between You and me. These difficulties provide protection from the idolatry of self-reliance.
Apart from You, I can do nothing. John 15:5. Difficulties keep us from a dependency on ourselves. 2 Corinthians 1:9. At all times, in all ways give thanks. Ephesians 5:20
I am to cease from doing and lean on Him. Be still and know that He is God! Do not despair, wait for, expect and hope in the Lord! Be of good courage!
Now the scriptures
GOD'S WORD: Remember John 15:5, "I am the Vine; you are the branches. Whoever lives in Me and I in him bears much (abundant) fruit. However, apart from Me [cut off from vital union with Me] you can do nothing."
2 Cor. 1:9 "Indeed, we felt within ourselves that we had received the [very] sentence of death, but that was to keep us from trusting in and depending on ourselves instead of on God Who raises the dead."
Eph. 5:20 "At all times and for everything giving thanks in the name of our Lord Jesus Christ to God the Father."
SHEEP: I was impressed to read these Scriptures
GOD'S WORD: Psalm 27:13-14 "[What, what would have become of me] had I not believed that I would see the Lord's goodness in the land of the living! Wait and hope for and expect the Lord; be brave and of good courage and let your heart be stout and enduring. Yes, wait for and hope for and expect the Lord.
Psalm 66:12 "You caused men to ride over our heads [when we were prostrate]; we went through fire and through water, but You brought us out into a broad, moist place [to abundance and refreshment and the open air]."
Psalm 92:12-15 "The [uncompromisingly] righteous shall flourish like the palm tree [be long-lived, stately, upright, useful, and fruitful]; they shall grow like a cedar in Lebanon [majestic, stable, durable, and incorruptible]. Planted in the house of the Lord, they shall flourish in the courts of our God. [Growing in grace] they shall still bring forth fruit in old age; they shall be full of sap [of spiritual vitality] and [rich in the] verdure [of trust, love, and contentment].
[They are living memorials] to show that the Lord is upright and faithful to His promises; He is my Rock, and there is no unrighteousness in Him."
Jeremiah 17:7-8, 10, 14 "[Most] blessed is the man who believes in, trusts in, and relies on the Lord, and whose hope and confidence the Lord is. Vs. 10 "I the Lord search the mind, I try the heart, even to give to every man according to his ways, according to the fruit of his doings.
Heal me, O Lord, and I shall be healed; save me, and I shall be saved, for You are my praise.
Psalm 91: 14-16 "14 Because he has set his love upon Me, therefore will I deliver him; I will set him on high, because he knows and understands My name [has a personal knowledge of My mercy, love, and kindness—trusts and relies on Me, knowing I will never forsake him, no, never]. 15 He shall call upon Me, and I will answer him; I will be with him in trouble, I will deliver him and honor him.16 With long life will I satisfy him and show him My salvation."
SHEEP: When all this was being revealed to me, I began praising the Lord and telling Him how much I loved Him. There weren't words adequate enough to express my thoughts so tears began to flow. Those tears became laughter.
Just a few minutes ago I expressed to my Lord my heart felt love and gratitude and He said:
SHEPHERD: That joy – the joy of Your Master is going to burst forth out of your inner most being! It is beginning to happen NOW as you understand NOW to be – NOW! Amen
/div>
More Conversations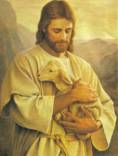 Send This Page to a Friend