July 14
July 14
SHEEP: I proclaim in the name of Jesus my latter years and Neal's are going to be more fruitful. They will be filled with joy, love and faith. Our hearts will be filled with the love of the Lord. They will overflow with love. His love to us exhibited in unselfish, self-sacrificing love to others.
This love will bring great faith;
Faith in His love to us
Faith in the powerful revelation of His love in our hearts
Faith that He through His love will work all His good pleasure in us.
We will be filled with joy because of the witness to the world to the power of Christ to change hearts and fill them with love and gladness.
Nothing, in the name of Jesus, will be able to stand against this being a reality to the fullness in our lives. – NOTHING – NO SICKNESS, DISEASE, OR ANYTHING – NOTHING IN JESUS NAME. AMEN
MY LORD'S LOVE IS GREATER, MORE POWERFUL THAN ANYTHING. VICTORY. IN HIM! THE CROSS CHANGED EVERYTHING. JESUS REIGNS HIS GRACE ABOUNDS.
GRACE, GRACE, AND MORE GRACE.
More Conversations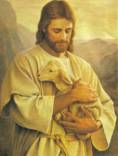 Send This Page to a Friend