July 3
July 3
SHEPHERD: This is just the beginning, hold steadfastly to me. Keep your focus and eyes upon Me – the author and finisher of your faith. There are needs I have for you to meet. "My children" are hurting and need My embrace. I will be your guide. Listen carefully. Look and see the needs about you. You will know what to do and what to say. The words will be there for I have and will continue to etch them upon your heart.
Many are the needs of My children – some know, others do not. For my timing all things work for everyone. "In My time" I made all things beautiful. It's time for my children to come forth in the power of My strength not their own. They will recognize this and humble themselves before Me realizing their need – you'll see. Remember in simplicity and trust I have called you. Take the truth of these words as such.
Those day of joy are before you witnessing the release of those in captivity; Hold on to Me. We're in this together. A willing, yielding is all I require. I will accomplish the rest. There will be an even greater understanding of these words as you begin to walk them with your hand in Mine. Amen!
More Conversations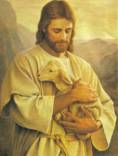 Send This Page to a Friend