The Lord God is With You
January 25
GOD'S WORD: Zeph 3:17 "The Lord God is with you.
He is might to save.
He takes great delight in you.
He will quiet you with His love.
He will rejoice over you with singing."

Ephesians 3:14-21: For this reason I kneel before the Father, from whom every family in heaven and on earth derives its name. I pray that out of his glorious riches he may strengthen you with power through his Spirit in your inner being, so that Christ may dwell in your hearts through faith. And I pray that you, being rooted and established in love, may have power, together with all the Lord's holy people, to grasp how wide and long and high and deep is the love of Christ, and to know this love that surpasses knowledge – that you may be filled to the measure of all the fullness of God.
Now to him who is able to do immeasurably more than all we ask or imagine, according to his power that is at work within us, 21 to him be glory in the church and in Christ Jesus throughout all generations, for ever and ever! Amen.
SHEEP: Yielded to the rule and leading of His Spirit. Take possession of our whole being. It enables us to fulfill all He asks. And it is through the Holy Spirit Christ will manifest Himself to us.
SHEEP: I believe, help my unbelief.
SHEPHERD:I am coming, you'll see. I have not brought you to this place for nothing. Sit back and see what I will do. I am the Almighty. I am in control of everything in your life. It matters not who is in it or what they do. Remember – I am in control of everything in your life. I know all, see all, actually in control of all things in your life and in the lives of all those who desire it to be so.
New days are before you. You'll see. NOW is the time that my glory be seen in the lives of my chosen ones. You will be humbled by what I have chosen, planned for you before the foundation of the world. My hand has and will continue to be upon you. Rest in that. Joy in it. My glory will be seen in through and about you – spirit, soul and body. Without a doubt it will be known that it is my hand that has done it. Sit back and behold what I will do. See if these words are from me or not. Without a doubt you will know.
Yes, it is nothing you have done. It is what I have chosen to do through you because of your love for me – simple love of a child.
GOD'S WORD:1 Tim 1:12-17
I give thanks to Him Who has granted me [the needed] strength and made me able [for this], Christ Jesus our Lord, because He has judged and counted me faithful and trustworthy, appointing me to [this stewardship of] the ministry. Though I formerly blasphemed and persecuted and was shamefully and outrageously and aggressively insulting [to Him], nevertheless, I obtained mercy because I had acted out of ignorance in unbelief.
And the grace (unmerited favor and blessing) of our Lord [actually] flowed out superabundantly and beyond measure for me, accompanied by faith and love that are [to be realized] in Christ Jesus. 15 The saying is sure and true and worthy of full and universal acceptance, that Christ Jesus (the Messiah) came into the world to save sinners, of whom I am foremost.
But I obtained mercy for the reason that in me, as the foremost [of sinners], Jesus Christ might show forth and display all His perfect long-suffering and patience for an example to [encourage] those who would thereafter believe on Him for [the gaining of] eternal life. Now to the King of eternity, incorruptible and immortal, invisible, the only God, be honor and glory forever and ever (to the ages of ages). Amen (so be it).
SHEEP **Only in proportion as we can manifest the character of Christ in and through ourselves can people hear. Only as far as we can live Christ before them can they understand.
>
GOD'S WORD: John 14:10-16: Don't you believe that I am in the Father, and that the Father is in me? The words I say to you I do not speak on my own authority. Rather, it is the Father, living in me, who is doing his work. Believe me when I say that I am in the Father and the Father is in me; or at least believe on the evidence of the works themselves. Very truly I tell you, whoever believes in me will do the works I have been doing, and they will do even greater things than these, because I am going to the Father. And I will do whatever you ask in my name, so that the Father may be glorified in the Son. You may ask me for anything in my name, and I will do it. "If you love me, keep my commands. 16 And I will ask the Father, and he will give you another advocate to help you and be with you forever
SHEEP: Allow His life to merge with mine. (He and His Father were one.)
We have been designed to depend upon him moment by moment.
Spirit of God/Christ lives with me constantly
Makes Himself real to me
Makes His home in me
Gives me the Holy Spirit to teach me all things.
We have been righteous by His GRACE.
Accepted as righteous through our FAITH
Remember January 23 concerning how people hear and understand us.
Step by step I'll lead you and you will follow me all your days.
Grace me every step of the way.
I don't want my own way.
Create in me a clean heart.
Restore unto me whatever needs to be restored and renew a right spirit in me.
SHEPHERD:This day, this hour, this moment, "I AM" aware of your needs. Every concern of yours is Mine. Trust me with it. I will not fail you. You'll see. Everything, everything I require of you has a purpose and it will be accomplished for you desire it to be so. Your place is to sit back, enjoy this day with me as I am accomplishing this good work for you. We are in this together. Nothing but good can come from it. Amen? You say yes? then AMEN!!
New days are before you. Live in expectantly of them all coming forth. I love you. Rest in that truth. Proclaim victory. Proclaim that the healing of your body be seen completely and live expectantly to see it unfold before your eyes. The JOY of the morning (morning) has come.
More Conversations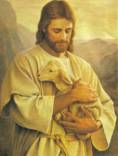 Send This Page to a Friend