Christ, the Hope of Glory
February 25
GOD'S WORD: Colossians 1:27 To whom God was pleased to make known how great for the Gentiles are the riches of the glory of this mystery, which is Christ within and among you, the Hope of [realizing the] glory.
SHEEP: We are called to bare one another's burdens, pray, seek His face. We have been given His strength and power. The ability of God is in us. He gave us the ministry of reconciliation and restoration.
He made Christ to be sin, who knew no sin, so that through Him we might be received as an example of the righteousness of God.
Christ in us, the hope of glory!
SHEPHERD: It isn't so much what you know but what I work in your heart that is important - that which I have etched upon your heart through the path I have required you to walk. My Word will, has been and will continued to be made alive in you through the experiencing of your faith. My Words will be there for you to speak coming from your heart. That will be the life changing power in the lives of those whom your life touches. It will be all about Me – the hope of glory! Remember, in simplicity and trust I have called you.
More Conversations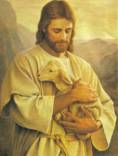 Send This Page to a Friend