Victory is Mine
February 15
SHEEP: Last night was quite a challenge! The gates of hell cannot prevail! I've been redeemed by the blood of Jesus and am healed! I address every tissue, cell, organ, joint, muscle, and tendon, to get in line with the Word.
The horse and rider has been thrown into the sea!
Victory is mine !
Ho, ho, ho, ho, san, ah!
Ha, ha, ha, le, lu, jah! He, he, he, he saved me!
I've got the joy of the Lord!
God spoke to after reading "Prayer Cloths"
SHEPHERD:Your eyes have not even begun to see all I have prepared for you; yet, your heart is grateful. How pleased I am! It gives Me great Joy.
Great days are ahead of you when My glory will be seen around, in and through you. You will glow with My Spirit. - spirit, soul, and body. You will open your mouth and people will hear and be changed. You will certainly see that it is not your power or might but the power of the Holy Spirit alive in you.
You have waited long for this. Weeping has endured but joy- the joy of a fully giving heart to Me and others - is before you. Amen!
More Conversations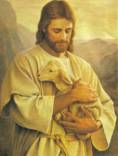 Send This Page to a Friend