Every Detail of my Life is in Your Hands
February 2
SHEEP: Father, I proclaim these words before you this morning and I look expectantly to see it happen. "My strength is made perfect in weakness. When I am weak then I am strong."
I am being made strong in You, Lord and I want to be strong in you and in the power of Your might. You, Lord, have the power to work in even the feeblest person with the strength of Almighty God. You can even work in us to carry out your purposes. You have power over my heart over every enemy and every difficulty and danger.
I believe my Jesus that you live in me and that you are working with your Divine energy in my heart and life right now – in all my circumstances, particularly this surgery. "Lo, You are with me always and the gates of Hell can not prevail."
I am going to come out of all this stronger in you and stronger in my body. This is the beginning of experiencing all things new which You spoke to me about January 28. I look expectantly to the unfolding of it all, my Lord. Thank you, merciful, loving, faithful Lord. It is all about You. To you belongs all glory and praise. I love you Lord and I am humbled by your faithfulness to me, Your loving acceptance of me and Your plans for me and Neal which are for good. The latter years of our lives are going to be more prosperous than the earlier years – spirit, soul and body. Amen
I will experience the healing of my body for all to see for the glory of the Lord. More than that, I walk with my hand in the Lord's hand. I will see and experience, literally, how He works in my behalf. I expect it. Nothing, NOTHING, can stand in the way of my Lord – every principality must bow. He is Lord over my life. I choose to walk with you, Lord, moment by moment.
Every concern of mine is a concern of yours. You will remove every hindrance that stands in the way – every one and I will learn and know you Lord and your power as I have never known it before – all because of you.
Every detail of my life is in your hands. Thank you, Jesus, for all you have accomplished for me (us) on Calvary. May I never take it for granted but KNOW THAT I KNOW it is all because of Jesus Christ who gave His all for me. He is preparing us to give to other people what He has and will continue to work through me for his glory. Thank you, thank you, Jesus. I love you with all my heart. Thank you for first loving me and choosing me before the foundation of the world.
I will look to you in every moment and in every situation.
GOD'S WORD: Lam. 3:22-25 "It is because of the Lord's mercy and loving kindness that we are not consumed because His tender compassion fail now. They are new every morning, great and abundant is your stability and faithfulness."
SHEEP: The Lord is my portion says my inner self; therefore I will hope in Him and wait expectant for Him.
The Lord is good to those who wait hopefully and expectantly for Him, to those who seek Him and require Him by right of necessity and on the authority of God's Word.
GOD'S WORD:This whole chapter is rich, Lamentations 3:1-23 The Lord is faithful to His Word. Wait on Him and expect daily expressions of His mercy. Lamentations 3:24-26 Seek the Lord expecting. Wait quietly for Him. Lamentations 3:27-30 Bear the discipline. Humble yourself. Lamentations 3:31-38 Restoration comes. Lamentations 3:39-40 Do not complain about adversity. Lamentations 3:41-54 Accept discipline as an expression of God's love Lamentations 3:55-66 Entrust yourself completely to the care of the Lord.
More Conversations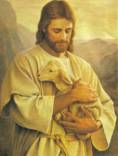 Send This Page to a Friend