December 31
December 31
SHEEP: Reaching toward the life of Christ has for us, remembering we've been chosen by Him and are to be faithfully obedient to being created in His Image.
Put on: tender mercies –sees a person in need and responds
humility – absence of arrogance
meekness
longsuffering –patient, exercises restraint
bearing with one another – persevering, putting up with , forgive as Christ forgives
love – with the bond of perfection – love all people – fervently and sincerely
Let His peace which passes all understanding dwell richly in you, making us one with each other.
Encourage one another one another with grateful hearts with praising and thanksgiving
Everyday is to be done for God's glory with a grateful for all He has done for us on Calvary.
A
MEN.
More Conversations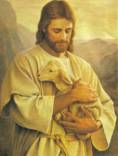 Send This Page to a Friend