December 26
December 26
SHEEP: Tokens of true love:
A sincere longing for true fellowship
Seeks to please the loved one.
Seeks to be one with the one you love for spiritual unity
The Lord's love will constrain us to win souls to Christ. It is the power of Christ's indwelling that He makes our hearts the dwelling place of His love to others. The strength of God's love in Christ enabled Him to give up His life wholly for us. As we yield our lives wholly to God, the welfare of souls will become the central object of our lives. The love of Christ constrains us and will supply all the strength and power needed.
More Conversations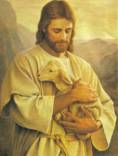 Send This Page to a Friend