December 23
December 23
SHEEP: Victory is already ours through Jesus Christ – 1 John 4:4 Those born in Christ can never be defeated.
1 John 5:4 Those who receive the abundant of GRACE will reign in life through Jesus Christ.
GOD'S WORD: Romans 5:17 "For if because of one man's trespass (lapse, offense) death reigned through that one, much more surely will those who receive [God's] overflowing grace (unmerited favor) and the free gift of righteousness [putting them into right standing with Himself] reign as kings in life through the one Man Jesus Christ (the Messiah, the Anointed One)."
SHEEP: Thanks be to God who gives us the victory through Jesus Christ! For with God, nothing is impossible. Luke 1:37
There is victory in Jesus, my Savior forever.
He sought me and He bought with His redeeming love
He loved me 'er He knew me and all my love is due Him
He plunged me to victory beneath His cleansing flood. (blood)
GOD'S WORD: 1 Cor. 15:57 "But thanks be to God, Who gives us the victory [making us conquerors] through our Lord Jesus Christ."
SHEEP: Father, you have been speaking to me through your Word about your love – your love to your Son and his love to us. We, in turn, are to reach out to others
More Conversations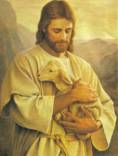 Send This Page to a Friend